---
IRES Seminar Series
Time: 12:30pm to 1:30pm (every Thursday)
*********************************************************************************
Reimagining Conservation Landscapes: Adivasi Characterizations of The Human-Dimensions of Southern Indian Forests
Abstract: 
One of the most damaging consequences of forest management and wildlife conservation policies around the world has been their pivotal role in the long-term dispossession of Indigenous groups from their ancestral lands. Indigenous presence in, knowledge, and understanding of the natural world is perceived as a problem requiring the correction and intervention of the state. These wrongful assumptions are dominant in the treatment of Adivasi (India's Indigenous people) across post-colonial India.  This dissertation empirically investigates the relationship of Kattunayakans, a hunter-forager Adivasi community of Southern India and protected area forest landscapes. It critically contrasts the ideology that defines India's forest policy with Adivasi views of human relationships with wildlife, forested land, forest fire, and forest food.  All work within relies on qualitative research methods, including open-ended, semi-structured interviews, transect walks inside protected areas, and GIS mapping. What emerges is an interpretation of the forest that emphasizes coexistence over domination, highlighting the fluid agency of animal and non-animal entities over rigid policy prescriptions and broader notions of forest security as human security. It fundamentally challenges these assumptions and offers insights on 'human inclusive' forest governance and wildlife management. Together this work offers the first comprehensive understanding of Kattunayakan existence in forests long known to be anthropogenic, long the source of well-being and forest security, and long the bane of policies from the ostensibly progressive Forest Rights Act (FRA 2006) to more restrictive imaginings of biodiverse terrain. 
Helina Jolly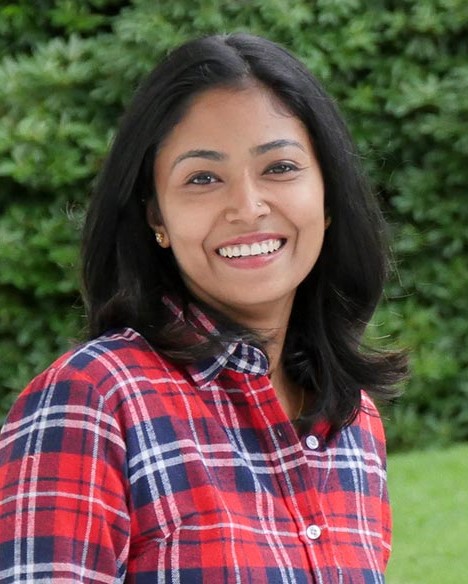 IRES PhD Program
Bio:
Helina Jolly is a PhD candidate and National Geographic Explorer (2018) at the Institute for Resources, Environment and Sustainability, University of British Columbia. An ecologist and environmental policy analyst by training, she studies human dimensions of biodiversity and conservation. In her doctoral research, she works with Kattunayakans, a lesser-known hunter-gatherer society of South Asia. She examines the complexities of human and nature connections within the forest landscapes of the Western Ghats in Kerala, India, through the conversations on human-wildlife interactions, food security, forest fire, and landscape meanings. As a part of her work, she directed and produced an ethnographic documentary, 'Gidiku Vapathu,' which was screened at the recent Portland Eco Film Festival. Helina is also the founder of an international web-based project, 'The Everyday Nature' (www.theeverydaynature.com), which documents people's perception of nature. She also leads the Collective for Gender+ in Research at the UBC that seeks to develop a network to articulate methods and tools to engage gender in research. Before joining UBC, Helina worked in India for six years on various environmental projects in South Asia. She is a Commonwealth Scholar (2009) and has an MSc in Environmental Policy and Regulation from the London School of Economics and Political Science.
---
A Closer Look into Bycatch for Improved Marine Conservation and Management Design
Abstract: 
Fisheries provide employment for over 39 million people yet can cause depletion of resources and put marine species at risk. Efforts to meet marine conservation goals and livelihood needs of coastal communities can undermine one another, as the long- and short-term timeframes of their objectives stand seemingly at odds. The Chacocente nature reserve in Nicaragua serves as essential nesting grounds for threatened olive ridley sea turtles, leading to militarized conservation on-land and fisheries closures at-sea. Coastal communities neighboring this critical area are economically dependent on artisanal fisheries, leading to intensive fishing efforts and incidental catch of turtles, known as bycatch. The lack of conservation attention to bycatch is arguably ineffective for ecological sustainability and negligent to social and economic sustainability. To determine the bycatch and catch rates of one community near Chacocente, called El Astillero, a voluntary observer program was implemented, and 98 sea days observed from July to December of 2019. Through descriptive and correlation analysis, we investigate the relationship between turtle bycatch, fish catch, and the spatial and temporal variables that drive each. With improved understanding of fishing dynamics at-sea, we aim to make recommendations for conservation and management design that works for both sea turtle populations and fisher livelihood security.
Allison Cutting
IRES MSc Program
Bio:
Allison Cutting is a Master of Science student at the Institute for Resources Environment and Sustainability (IRES), co-supervised by Dr. Terre Satterfield and Dr. Rashid Sumaila. Raised on the Salish Sea, she was captivated by the relationship between human and ocean health. She now considers herself a social ecologist who investigates the connectedness between coastal communities and marine environments, particularly with a focus on fisheries. To embrace the complexity of fishery systems, Allison draws on interdisciplinary approaches from conservation biology, environmental economics, and human-centered design.
Prior to joining IRES, Allison lived in five coastal communities around the world, worked alongside commercial fishers as an observer, interned at the Stanford Center for Ocean Solutions to research the implementation of rights-based governance, and served as a field ecologist for the Pacific Northwest National Laboratory. She received a Bachelor of Science in ecology and a minor in sociology from Seattle Pacific University. She has been a grantee of The Explorers Club, UBC Ocean Leaders, National Geographic Society, and the National Science Foundation.