Rematriation of Indigenous Forest Stewardship
Time: 12:30pm to 1:20pm
Location: Beaty Museum Theatre (2212 Main Mall)
This seminar was not recorded.
---
Talk summary:
Pacific Northwest Forests have provided many amenities for thousands of years – as long as humans have inhabited these spaces. How these forests have been used over time has changed in the most recent century as Indigenous uses have been marginalized or outright displaced. Indigenous uses of the forest have been greatly misunderstood, with no small coincidence because this sentiment has expeditiously facilitated others' uses.
The colonial dispossession of Indigenous lands and trade interrupted the ecologic and social harmony enjoyed by Indigenous people with enormous costs to them, to the natural resources, and colonial society. Traditional governance systems were ignored with attempts to dismantle many of them to be replaced by an imposed system created under the Indian Act, and other instruments. Differences between these systems in the governance of resource use are exemplified by the disconnect of social obligations for the stewardship of resources as is found in traditional social institutions. It is these ancient social institutions in the Pacific Northwest that social reproduction transmits the Indigenous knowledge of resources and the power of law.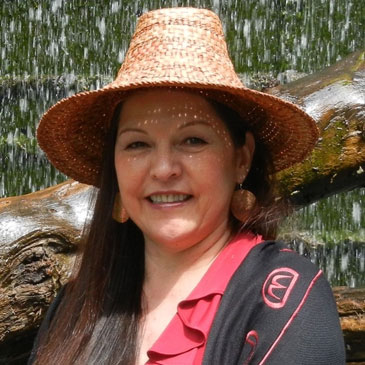 Bio:
Dr. Teresa (Sm'hayetsk) Ryan (Ts'msyen; Indigenous Knowledge Lecturer, UBC Forestry) is an ecologist specializing in Indigenous stewardship of natural resources and their interdependent connections within complex adaptive systems. She works at the forefront of forestry research to reconcile Indigenous values in projects, practices, and informing policy. Teresa is investigating relationships between salmon and healthy forests and revitalizing traditional Indigenous stewardship in the Salmon Forest Project (funded by Donner Canadian Foundation). She also works on Mother Tree Project (Simard) and is exploring old growth forests in supporting biodiversity and resiliency. Visit Teresa's TEDxBerkley talk to hear the inspiration to her journey.