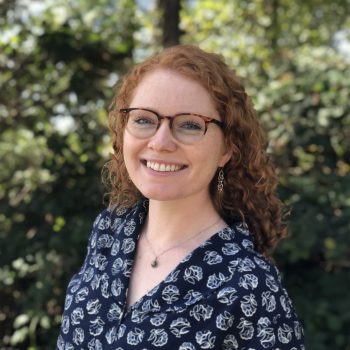 Sarah-Louise Ruder
PhD Candidate, UBC Public Scholar, UBC Four Year Doctoral Fellow, SSHRC Canada Graduate Scholarship Recipient
Contact Details
Research Interests
Food security, Gender, Perceived risk and new technology, Political ecology, Political economy, Resource governance and management, Social ecological systems, Sustainability, Technology
Bio
Sarah-Louise Ruder is a PhD Candidate at the Institute for Resources, Environment and Sustainability (IRES) at the University of British Columbia and a Researcher at the Food and Agriculture Institute (FAI) at the University of the Fraser Valley. Her research examines power, justice, and sustainability in the context of food systems and technological change in Canada. 
Interdisciplinary by training, Sarah-Louise is an environmental social scientist. Her mixed-methods doctoral research investigates challenges and opportunities for data governance and data justice with the increasing digitalization of the food system; farmer experiences and imaginaries of technological change in Canada, focusing on digital technologies; and the enactment of responsible research and innovation in the food system, with a study of agricultural genomics experts. This research is funded by a Canada Graduate Scholarship from SSHRC and a Four-Year Doctoral Fellowship from UBC. Her supervisors are Professor Terre Satterfield and Professor Hannah Wittman.
At FAI, she works with Professor Lenore Newman, Dr. Evan Bowness, and colleagues to study the social and political implications of cellular agriculture (i.e., precision fermentation, "in vitro meat") and the prospects of a just transition in the food system.
Sarah-Louise began researching the implications of novel agri-food technologies during her master's thesis research, which focused on Ontario grain farmer perceptions and experiences "digital farming" in Ontario, Canada. She holds a Master of Environmental Studies and an Honours Bachelor of Science in Environmental Science from the University of Waterloo and Queen's University, respectively.
In addition to research, Sarah-Louise is passionate about teaching and pedagogy. She is a lecturer for the UBC Climate Teaching Connector. In 2020, she co-designed and co-taught an interdisciplinary graduate course for UBC Geography (GEOB504: Perspectives on the Anthropocene). 
Sarah-Louise is a member of Canadian Association for Food Studies (CAFS) and the Geographies of Food and Agriculture Specialty Group (Association of American Geographers), as well as a non-farmer member of the National Farmers Union. She served as the Secretary of the CAFS Board of Directors from 2020 to 2022.
Featured Publications
Ruder, S.L.,* James, D.,* Bowness, E.,* Robin, T.,** & Dale, B.** (2022). Canada's Corporate Food Regime and the Prospects for a Just Transition. In J. Antony, W. Antony, & L. Samuelson (Eds.), Power and Resistance: Critical Thinking about Canadian Social Issues. Fernwood. ISBN: 9781773635187  || * Authors contributed equally | ** Authors contributed equally
Sanniti, S.R. & Ruder, S. L. (2021). Engaging Economies of Change: Equitable Partnerships for Climate Action. In K. Kish & S. Quilley (Eds.), Ecological Limits of Development: Living with the Sustainable Development Goals (pp. 231–250). Routledge. https://doi.org/10.4324/9781003087526-19 
Wilson, A., Bessey, M.,* Brady, J.,* Classens, M.,* Lee, K.,* Levkoe, C.,* Marshman, J.,* Martens, T.,* Ruder, S.L.,* Stephens, P.,* & Soma, T.* (2021). Looking back on food studies in 2020-2021 in so-called Canada [Commentary]. Canadian Food Studies / La Revue Canadienne Des Études Sur l'alimentation, 8(3), 5–10. https://doi.org/10.15353/cfs-rcea.v8i3.520 || * Authors contributed equally
Clapp, J. & Ruder, S.L. (2020). Precision Technologies for Agriculture: Digital Farming, Gene-Edited Crops, and the Politics of Sustainability. Global Environmental Politics, 20(3), 49 – 69. https://doi.org/10.1162/glep_a_00566  || Approximately 60:40 distribution of labour
Ruder, S.L.* & Sanniti, S.R.* (2019). Transcending Learned Ignorance of Predatory Ontologies: research agenda for an ecofeminist-informed Ecological Economics. Sustainability, 11(5), 1 – 29. https://doi.org/10.1162/glep_a_00566 || * Authors contributed equally
Ruder, S. L. (2018). Clive Hamilton. Defiant Earth: The fate of humans in the Anthropocene. [Book review of Defiant Earth, by C. Hamilton]. Environmental Philosophy, 15(1),129–134. https://doi.org/10.5840/envirophil20181515