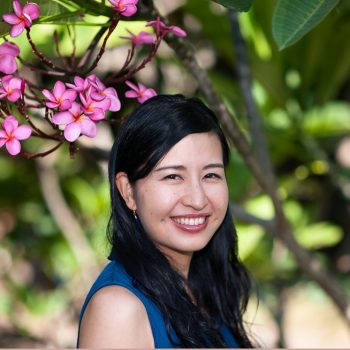 Rumi Naito
PhD Student, Liu Scholar
Contact Details
—

http://chanslab.ires.ubc.ca/people/rumi-naito/ http://zhaolab.psych.ubc.ca/people.html
Research Interests
Behavioral change, Biodiversity conservation, Climate change, Cultural ecosystem services, Environmental and cultural values, Management of biodiversity, Perceived risk and new technology, Policy and Decision-making, Political ecology, Resilience, Resource governance and management, Resource scarcity, Science-policy interface, Social ecological systems
Bio
Rumi is a Ph.D. student in the Institute for Resources, Environment and Sustainability (IRES) at the University of British Columbia (UBC), focusing on behavioral psychology applied to conservation and natural resource management in tropical landscapes. She is also a Liu Scholar at the Liu Institute for Global Issues and a UBC's Four Year Doctoral Fellowship recipient. Drawing on insights from cognitive psychology, her doctoral studies will investigate: 1) how land-users perceive conservation challenges differently and make subsequent land-use decisions; and 2) what interventions might facilitate desired behavioral change for sustainability.
Prior to starting her doctoral studies at UBC, Rumi worked with an Indonesia-based consulting firm, Starling Resources, as a senior project manager on a number of projects concerning collaborative land-use planning, forestry policies, reducing emissions from deforestation and forest degradation (REDD+), ecosystem restoration, sustainable peatland management, agroecology, and community-based economic development. She holds a Master's degree in International Affairs from the School of International and Public Affairs, Columbia University in New York, with a focus on Environmental Policy Studies for Southeast Asia.
In her spare time, she enjoys training capoeira, traveling, hiking, and pottery.