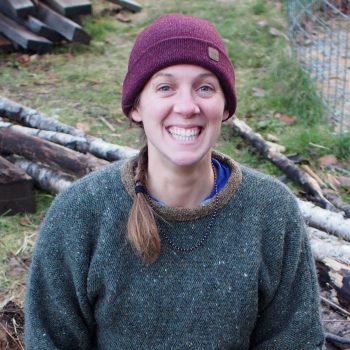 Nicole Kaechele
PhD Student, 4 Year Fellowship; SSHRC Doctoral Fellowship
Contact Details
nicolekaechele[dot]bc[at]gmail.com rioprojectmanagement[at]gmail.com
Research Interests
Community-based research, Compensation, First Nations and Resource Management, Policy and Decision-making, Reconciliation, Resource governance and management
Bio
Nicole (Nikki) Kaechele is a PhD student at the Institute for Resources, Environment and Sustainability under the supervision of Dr. Terre Satterfield. Her research focuses on compensation for historical and contemporary losses from resource extraction, exploring the ethical and policy implications as compensation emerges as part of the larger reconciliation context between Indigenous nations and the state. Nikki's research methods are interdisciplinary and community-engaged, with a focus on decolonizing research processes in collaboration with community partners.
Nikki holds an MREM from the University of Dalhousie, where she focused on geographies of health and the application of community-based participatory research methods. She also holds an undergraduate degree in Philosophy and Environmental Studies from the University of Victoria. For the past decade, Nikki has lived and worked in rural-remote BC, supporting Indigenous-led planning, stewardship, and government-to-government processes. Of particular influence has been her collaborative work in ancestral law, co-developing the Nuxalk Ancestral Governance project with colleagues and mentors from the Nuxalk Nation.
Nikki has a glorious batch of family and friends who keep her sane and grounded. In particular, her husband and two kids, and their infinite imaginations, make for much time spent in the mountains and waters of BC, and always eating good food.
Featured Publications
Nunanta (Iris Siwallace)., Kaechele, N., Jean-Leischner, E. (2022). Indigenizing Academic Minds to Work with Community: A Joint Reflection on the Everyday Work of Building Good Research Relationships. In The Community-Based PhD: Complexities and Triumphs of Conducting CBPR. Edited by Sonya Atalay and Alexandra McCleary. University of Arizona Press: 237-252.
Gregory, R., Halteman, P., Kaechele, N., Kotaska, J., Satterfield, T. (2020). Compensating Indigenous social and cultural losses: a community-based multiple-attribute approach. Ecology and Society 25(4):4. https://doi.org/10.5751/ES-12038-250404
Gregory, R., Easterling, D., Kaechele, N., Trousdale, W. (2015). Values-Based Measures of Impacts to Indigenous Health. Risk Analysis. DOI: 10.1111/risa.12533