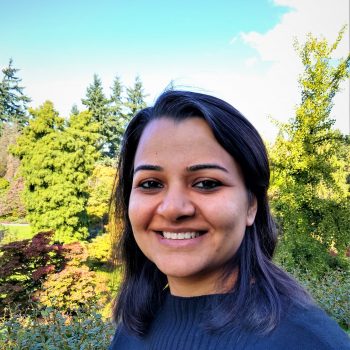 Bio
Neha is a PhD student at the Institute for Resources, Environment and Sustainability (IRES) at the University of British Columbia (UBC). Her doctoral research attempts to understand the socio-economic, policy and industrial dynamics that mediate repair and reuse within a zero waste and circular economy context. Her doctoral work at IRES is supervised by Professor Milind Kandlikar.
Neha has worked for over a decade at the nexus of economic and public policy research and data analytics with international research organizations and corporations in India. Prior to starting her PhD program, she worked with World Resources Institute (WRI) on developing a resilient growth strategy for Karnataka based on a comprehensive regional economic analysis. In the past, she has worked on building and implementing econometric models across research and analytics divisions of various organizations. She has also been involved in research projects at some of the Indian academic institutes and public policy think-tanks on issues of urban livelihoods and governance.
In Vancouver, parallel to her research, Neha has been engaged in a project to develop a regional pathway for transition to a circular economy through collaboration between government, communities, and enterprises. She has also conducted quantitative and qualitative studies with the city's transit agencies and the local government for advancing sustainable transportation in the region.
Neha holds a Master's degree in Economics from Gokhale Institute of Politics and Economics, Pune. Her Master's thesis was a survey-based study on designing a social security scheme for domestic workers in Pune. She completed her Honours Bachelor's degree in Economics from Hindu College, University of Delhi.