Archives by date
You are browsing the site archives by date.
Dec 21, 2018 Two-Year Postdoctoral Teaching Fellowship in Environmental Studies The Environmental Studies Program at the College of the Holy Cross invites applications for a full-time, two-year postdoctoral fellowship (2019-2021) to begin August 2019.  A recent Ph.D. with a strong emphasis in environmental studies within the humanities, arts, and social sciences is required. A Ph.D. […]
Dec 21, 2018 Political Ecology – Tier 2 Canada Research Chair (Assistant Professor) The School of Environmental Studies at the University of Victoria, located on the traditional territories of the Songhees, Esquimalt and WSÁNEĆ peoples, invites applications for a Tier 2 Canada Research Chair in Political Ecology. The interdisciplinary field of Political Ecology critically investigates the […]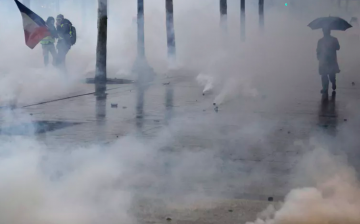 In an op-ed published by The Conversation, RES PhD student Abhishek Kar and IRES Faculty Associate Hisham Zerriffi argue that the best way to get people to act on climate change is through their wallets.
Dec 20, 2018 The Pacific Institute for Climate Solutions, Climate Futures Initiative and SFU's Faculty of Environment are pleased to invite you to the Solutions talk of the Climate Futures Series: The SCIENCE, IMPACTS and SOLUTIONS to limit global temperature increase to 1.5 degrees. Which path to halting climate change? To halt global warming, global […]
Dec 20, 2018 Physics Astro-3d Lecturer / Senior Lecturer Astrophysics University of Melbourne Postdoctoral Research Fellow in Particle Physics University of Melbourne Postdoc Research Fellow in Astro 3D Fellow University of Melbourne Assistant Professor in Theoretical Computational Large-Scale Ocean Dynamics and Climate University of Toronto Microsoft Quantum Postdoctoral Fellowship in experimental […]
Dec 20, 2018 Dear students, emerging researchers and faculty, PICS invites you to a unique opportunity to engage and learn from IPCC lead authors.  The event – introduced by PICS executive director Sybil Seitzinger – will begin with a 20-minute panel presentation from six lead authors who will talk about the work of the Intergovernmental Panel […]
Dec 20, 2018 Colorado State University: Two positions re: diversity, inclusion & natural resources Director of Diversity and Inclusion Programs The Director of Diversity and Inclusion will advance the College's goals to enhance inclusive excellence and increase diversity in its programs. Increasing diversity and fostering an inclusive College culture and environment are among the College's […]
Dec 20, 2018 OKLAHOMA, NORMAN 73019. The Department of Geography and Environmental Sustainability at the University of Oklahoma (http://geography.ou.edu) invites applications for an Assistant Professor focused on Urban Governance and Sustainability.We seek a scholar with interests in urban environmental planning and governance. This may include a focus on environmental politics; risk and complexity; social vulnerability […]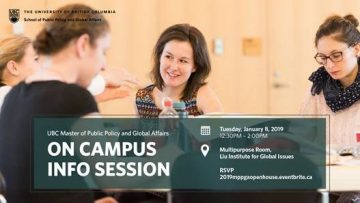 Dec 20, 2018   2019 MPPGA INFO SESSION & OPEN HOUSE Prospective students, please join us on UBC Point Grey campus to learn more about the UBC Master of Public Policy and Global Affairs (MPPGA) program from our Graduate Program Director, students and program staff. Date: […]
Dec 20, 2018 University of Wyoming Assistant Professor – Environment & Society JOB PURPOSE:    The University of Wyoming (UW) invites applications for Assistant Professor in the Helga Otto Haub School of Environment and Natural Resources (ENR) focusing on the cultural and social dimensions of environment and natural resources issues. We seek an accomplished and creative […]