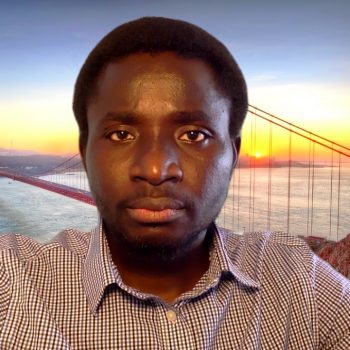 Vincent Kuuteryiri Chireh
PhD Student
Four Year Doctoral Fellow
Research Interests
Resource governance and management, Water governance
Bio
I am a Ph.D. student at the Institute for Resources, Environment and Sustainability under the supervision of Dr. Jordi Honey-Roses. I come from a small farming community, Lassia Tuolu, in the northwestern corner of Ghana, Africa. Prior to IRES, I studied Geography and Resource Development at the University of Ghana, Legon, Ghana for the bachelor's degree and M.A in Environmental Policy from the Environmental Policy Institute, Grenfell Campus, Memorial University of Newfoundland, Canada.
Before graduate studies, I spent 4 years working for the Government of Ghana as a development planning officer where I engaged communities in the district to synthesis their priorities/problems into development programs/projects/plans. Among other things, my duties included the development of district plans, supervision, monitoring and evaluation of projects in areas such as infrastructure, water and sanitation, and social intervention programs. During this period, I also worked with/for other international organizations including UNICEF, Plan-Ghana, and the UNDP in the planning, provision and maintenance of rural drinking water systems.
I have a passion for and interest in water-related research involving water governance/management, capacity building, public perception, and water quality monitoring particularly in small water systems in rural communities in both developed and the developing world. My focus would be the nexus between new and innovative water solutions (technologies) and their adoption, acceptance and sustenance in rural communities as solutions to water challenges. My studies will expand to explore their implications for public perception, human health, and the environment.
I prefer to employ qualitative methods to conduct my research which allows diving deeper into finding the reason(s) behind the numbers/text to explore practical solutions with rural folks in regard to their drinking water challenges.
Featured Publications
Honey-Rosés, J., I. Anguelovski, V.K. Chireh, C. Daher, C. Konijnendijk, J. Litt, V. Mawani, M. McCall, A. Orellana, E. Oscilowicz, U. Sánchez, M. Senbel, X. Tan, E. Villagomez, O. Zapata, M. Nieuwenhuijsen (2020). The Impact of COVID-19 on Public Space: An Early Review of the Emerging Questions – Design, Perceptions and Inequities. Cities & Health. doi: 10.1080/23748834.2020.1780074
V. K. Chireh (2018). Exploring a regional approach in drinking water management in the Strait of Belle Isle, Newfoundland and Labrador. Memorial University of Newfoundland. https://research.library.mun.ca/13776/
Ayetor, S. K. & Chireh, V. K., (2014). 2010 Population and Housing Census; District Analytical Report, Ajumako/Enyan/Essiam District Assembly. http://www.statsghana.gov.gh/docfiles/2010_District_Report/Central/AJUMAKO%20ENYAN%20-%20ESIAM.pdf