October 15, 2021
This series is composed of 3 sessions focused on supporting community-based initiatives addressing climate justice. Students learn from community organizers and collaborate with each other to develop innovative solutions, bringing their ideas to action through an opportunity to receive up to $1,000 in grant funding.

October 8, 2021
SEEDS Sustainability Program at UBC Campus + Community Planning offers two co-curricular project opportunities. Both projects aim to support and inform the development of the emerging Campus Vision 2050 (a comprehensive update to UBC's current land-use policies), in topic areas related to ecological and human well-being.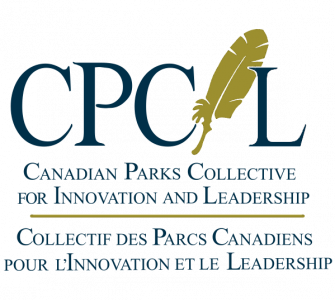 October 1, 2021
 The Canadian Parks Collective for Innovation and Leadership (CPCIL) is seeking youth/students (aged 15-30) from Oct. to Dec. 2021 and Jan. to Mar. 2022 to assist with two projects. Please submit your applications by October 8, 2021.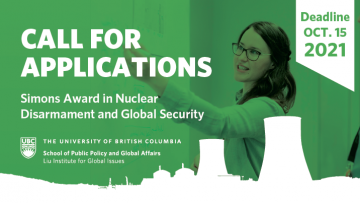 September 29, 2021
The Liu Institute for Global Issues at the UBC School of Public Policy and Global Affairs invites applications to the Simons Award in Nuclear Disarmament and Global Security from UBC students intending to undertake research on topics broadly related to nuclear disarmament, including nuclear energy, and global security. Applications must be received by October 15, 2021.
September 28, 2021
The School of Climate Change (SoCC) is a nine-week course taught by leading Oxford academics and organised by the Oxford Climate Society (OCS). It is designed to equip participants with a comprehensive education in the basics of climate change – from the physics of the greenhouse effect to climate justice. Pitched as a 'Climate 101' course, the SoCC is open to everyone, wherever you are in the world.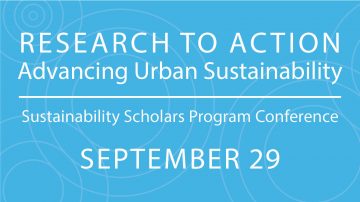 Join on September 29 for an afternoon of engaged discussions on a diverse range of applied sustainability projects produced by UBC graduate students in collaboration with partner organizations including the City of Vancouver, Metro Vancouver, BC Hydro, TransLink, local health authorities, local governments, and various NGOs.
September 22, 2021
Three internship opportunities offered by tentree, a sustainable apparel company that plants ten trees for every item of clothing sold.
September 13, 2021
The IAR brings together UBC graduate students with an interest in advancing research that addresses a broad range of issues — particularly those with relevance to policy or global affairs — and is based on engagement with and deep knowledge of Asia. Deadline: September 15, 2021. Applications may be accepted later if slots remain available.