Archives by date
You are browsing the site archives by date.
May 31 2018 Postdoctoral fellows (3-5) with orientation toward environmental research in human science (humanities, law, social science) https://www.su.se/english/about/working-at-su/jobs
Julia Baird, Assistant Professor at Brock University, will present on the "Understandings of water resource systems through a resilience lens"
Charlie Wilson, an IRES alum, and a current research in the Tyndall Centre for Climate Change Research will be speaking on "Transforming Energy Demand to Meet the 1.5°C Climate Target and Sustainable Development Goals Without Negative Emission Technologies". Photo Credit: Madison Stevens, IRES PhD Student
May 31 2018 **Early bird registration deadline is: May 31st** Place-Based Food Systems 2018: Making the Case, Making It Happen Metro Vancouver, August 9-10th, 2018 This two-day conference is drawing together academics and community leaders to share the latest research and actions on building capacity for and empowering, place- based food systems.Participants will leave […]
May 31 2018 DFO is looking for a Senior Biologist for the Fraser & Interior area. The immediate need of the resulting pool will be to staff Senior Biologist positions within the Fraser and Interior Stock Assessment and Resource Management Programs at full or part time hours and for various tenures. It may […]
May 31 2018 See attachment for details: FC Director of Development Description 2018
May 31 2018 Belgium PhD in Precise structure characterisation for scanning Transmission electron microscopy University of Antwerp, Faculty of Science PhD in Beam damage limits in Transmission electron microscopy University of Antwerp, Faculty of Science PhD in 3D atomic modelling of functional nanocrystalline structures University of Antwerp, Faculty of Science PhD student in Early Stage […]
JOIN THE 5K TEAM CHALLENGE FRIDAY, JUNE 15TH AT UBC THUNDERBIRD STADIUM – 6:45PM The Thunderbirds Track Club would like to invite your department to participate in The Granville Island Brewing 5K Team Challenge that will be held on UBC campus on the evening of Friday, June 15th. Have a fun Friday evening run with […]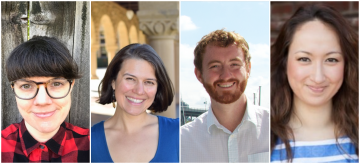 Congratulations to Nicole Wilson, Mollie Chapman, Justin Ritchie, Arielle Swett!